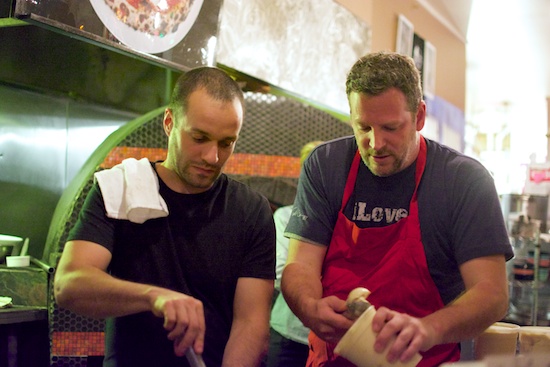 Team Bill Taibe brought Arthur Avenue to Danbury CT, at the 6th Souterrain (a.k.a. Underground Dinner). The venue was Stanziato's Wood Fired Pizza, and the restaurant swap allowed diners to enjoy not only a little piece of Little Italy, but some unique dishes and flavors made possible by the wood fired oven prominently featured in Matt Stanczak's kitchen.
Only 40 lucky guests managed to gain access to Souterrain #6, as it sold out in a matter of minutes, but those who responded quickly were treated to what felt like dinner on a cozy Mulberry alleyway. Marsha Glazer magically transformed the casual dining space with clotheslines (note bras and undergarments above), checkered tableclothes, and lights strung throughout. The menu was epic and featured roughly 12 courses (I stopped counting at some point). Arik Bensimon, Executive Chef at le Farm, was a key player in the menu creation, alongside Matt Stanczak, and dishes included: An outrageous Octopus Panzanella, Pickled Veggies, Baked Lima Bean Bruschetta, Calzone, Porchetta, Mortadella, an all inclusive medley of Roasted Squash, Affogato, and of course Italian cookies.
Enjoy the photo gallery above...and if you would like to be a part of the next Souterrain, contact them and ask to get on their email list for future events.
---