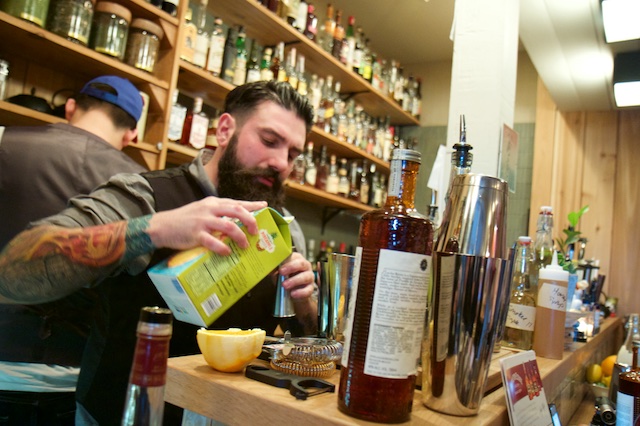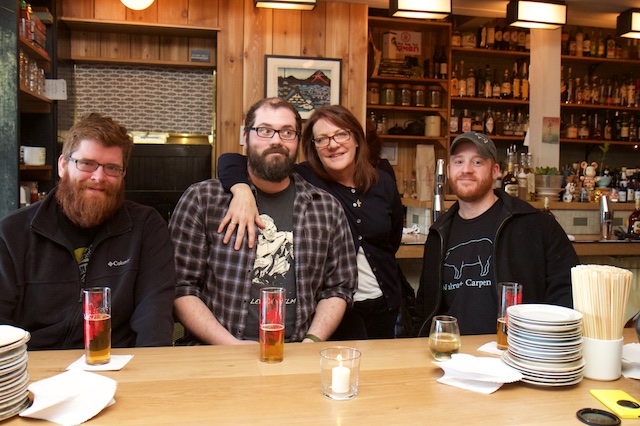 Move over "show case showdown," there's a new showdown in town. Jeff Maron, bar manager of Kawa Ni in Westport (and both of the other Bill Taibe's jaunts) hosted the first of six Bartender Competitions where some of the North East's finest BAR-istas concocted some fabulous potions for the judges and guests to imbibe and describe. The goal of this event series is to showcase the art of the craft cocktail and elevate mixology in CT.
Each 'tender was required to create 5 identical cocktails using one ounce of the sponsored ingredient - in this case, Appleton Reserve Rum, and one ounce of the secret ingredient - in this case Ancho Reyes chili liquor. Other than that, each drink-master was given free reign to embellish, add, adjust and design their signature cocktail. There was even some blow torching of fruit. The end game was to impress the panel of 4 judges, including the lucky winner of the CTBites cocktail naming contest, and Adam Roytman of Walrus and Carpenter (from whence many of the evening's delicious nibbles were provided).
And so, apps were noshed, cocktails were poured and spectators watched as the 6 competitors worked feverishly to present their drinks (works of art, really) to the judges. And who were these masters of the pour?
1: Dimitrios Elias Zahariadis (USBGCT Founder, President USBGCT, The Cocktail Chemist Founder/Partner, Waterbury, CT)
2: Carl Summa (USBGCT Vice President, Bar Manager Main Street Grill, The Cocktail Chemist Partner)
3: Carlos Garcia (USBGRI Bartender New Harvest Coffee & Spirits, Providence, RI)
4: Jon Kraus (USBGNY Principal Bartender, The Gilroy, New York, New York)
5: Christopher Almeida (USBGRI President, Rhode Island)
6: James Menite (USBGNY Vice President, Head Bartender at The Plaza Hotel, New York, New York)
Once the 1/2 hour allotted for drink preparation was up, it was time for the judges to rate each cocktail on a scale from 1-10 on taste, aroma, presentation and use of the secret ingredient. Finally, a winner was announced. Ladies and gentlemen, drum roll please....
Jon Kraus! Congratulations to Jon who will now be automatically entered in the final round at the end of the series on November 15th at the Whelk!
---