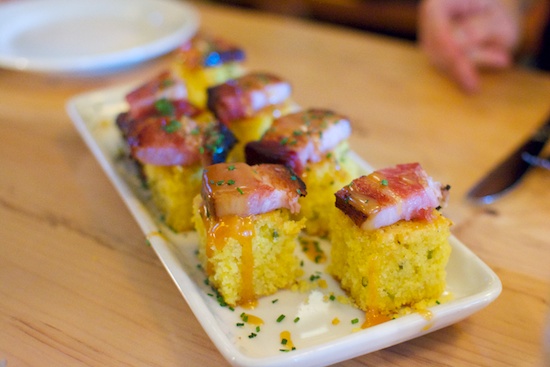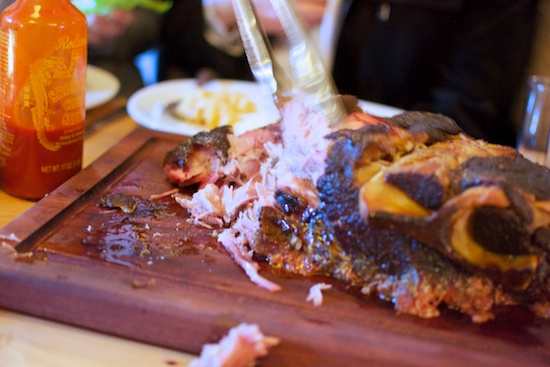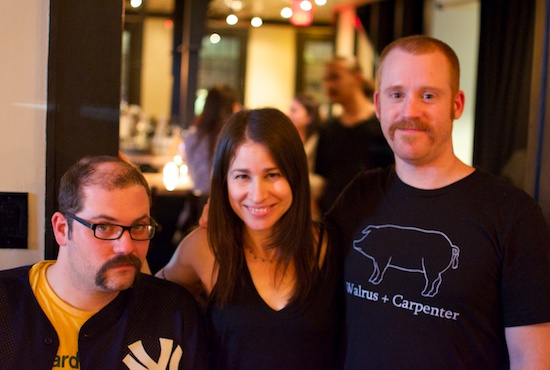 This past Thursday night,
Mecha Noodle Bar and Walrus & Carpenter in Bridgeport teamed up for an evening of smoked meat, ramen, sake and Bruce Lee films as they threw down a traditional Bo Ssäm Dinner.
What is Bo Ssam you ask? Ssäm is Korean for enclosed or wrapped, and Bo Ssäm is a meal of slow cooked pork shoulder wrapped in greens (often Bibb lettuce), topped with an oyster, sticky rice, Korean bbq sauce, and kimchi.
Tony Pham of Mecha
took it a few steps further and threw in
Pork Belly w/ Thai Chile Cornbread, Ramen topped with both brisket and pork
,
Scallion Pancakes
, as well as
"Deviled Onsen Tamago (eggs)"
with..yes...you guessed it.. BACON, kimchi, and fermented seaweed. 30 guests thought they had died and gone to heaven in the belly of a pig.
The theme revolved around the 70's cult action films of Bruce Lee and Chuck Norris, so moustaches and ninja attire were donned. The photos really say it all, but we look forward to anything these guys collaborate on in the future.
---